Pop-up Art Show and Open Kitchen Fundraiser
December 3, 2022
Help support a great cause and join us at our Woodinville Tasting Room for a Pop-Up Art Show by local artist Loraine Chandler. 100% of art show proceeds will be donated to Open Kitchen (a community meal program).
Date: Saturday, December 3, 2022
Time: 12:00 PM - 6:00 PM
Admission: FREE
Location: Airfield Estates Woodinville Tasting Room, 14450 Redmond-Woodinville Road NE, Suite #109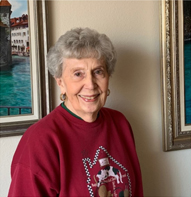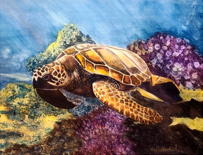 About the Artist:
In kindergarten, Loraine Chandler, now 87, discovered she loved drawing faces with noses and ears instead of plain stick figures, and she's been drawing detailed pictures ever since! Self-taught until the age of 30, Loraine took her first adult education class in beginning oil painting in 1965, and in 1969, continued her early training with Ilona Ritter, a well-known Bellevue artist. Workshops with various artists helped Loraine learn new techniques and tricks to create her artistic style.
Inspired by photographs taken by her family and friends over the years, Loraine uses both watercolors and oils to depict international city and country scenes as far away as France, the natural beauty of landscapes as close as her own back yard, and portraits commissioned by people in her circle. Loraine is a fan of realism. "Making something look like what it is, is a way of praising what God has made." Loraine's one and only art studio has been the upstairs room of the house she's shared with her husband for the last 47 years, where she paints because she loves the community art inspires. "I don't think I would have painted this long without the joy of learning along-side other artists!" Loraine is thrilled to donate the proceeds of her art show to Open Kitchen, a community meal program for which she has volunteered for many years. "My heart is with Open Kitchen, and I hope my art can help feed people!"
« Back to Events