Red Wine & Chocolate
February 17, 2018 - February 19, 2018
Join Airfield Estates for Red Wine & Chocolate! We will be debuting our new 2014 Aviator, a full-bodied Bordeaux-style red blend, paired with a dark chocolate ganache heart. Also on the tasting list will be our new 2016 Bombshell Red and 2017 Sangiovese Rosé that will surely become new favorites!
The Red Wine and Chocolate event weekend includes over 40 participating Yakima Valley wineries. Each winery pairs sumptuous chocolate desserts with their very own remarkable red wines. Premier Passes are $30 per person in advance or $35 at the door. Passes are available for purchase online at www.wineyakimavalley.org.
Our standard $5 tasting fee is waived for Premier Pass Holders as well as Airfield Estates Wine Club Members.
BYOG – Please bring your own glass! Otherwise, plastic tumblers will be available for purchase for $4 or logo wine glasses for $6.
We hope you can join us for this fun weekend of chocolate and wine!
DATE
Saturday-Monday, February 17-19, 2018
LOCATION
Airfield Estates Prosser Tasting Room and other participating Yakima Valley Wineries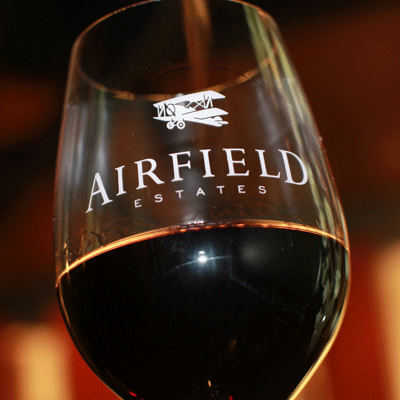 « Back to Events