Red Wine & Chocolate
February 16, 2019 - February 17, 2019
Red wine and chocolate at Airfield Estates will have your senses tingling. Join us for a bold lineup of wines, including our award-winning Sangiovese Rosé and two new releases - our 2015 Aviator, a Bordeaux-style blend with luscious notes of espresso, cola, and pipe tobacco as well as our 2015 Reserve Merlot, a true varietal expression of mocha and chocolate covered cherries that will permeate the palate - both expertly paired with a Seattle Chocolate Truffle.
Whether you adore Aviator or are mad for Merlot, take home two bottles and receive a complimentary box of truffles to share or savor yourself.
ABOUT THE WINES
2015 Aviator This elegant, Bordeaux-style blend unfolds juicy layers of wild Amarena cherry, huckleberry, and black raspberry. Its approachable style with moderate tannins make this fruit-forward wine perfect for entertaining.
2015 Reserve Merlot Notes of sweet pipe tobacco and blueberry envelop the senses. A leathery texture and chewy tannins excite the palate with flavors of blackcurrant and vanilla bean.
TIME
11:00 AM - 5:00 PM
TICKETS
Admission: $5 at the door
Premier Passes: $30 online | $35 at the door
Please bring your own glass! Otherwise, they will be available for purchase at the door.
LOCATION
Airfield Estates Prosser Tasting Room and other participating Yakima Valley Wineries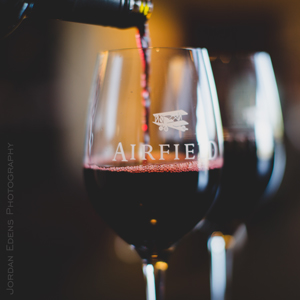 « Back to Events