FREE Shipping on Wine
November 23, 2021 - December 31, 2021
FREE UPS Ground Shipping on 6+ bottles to our fellow Pacific Northwest residents of Washington, Oregon, and Idaho.
For other eligible shipping states, we are offering $10 Flat Rate UPS Ground Shipping on 6 to 11 bottles of Airfield Wines – OR – FREE UPS Ground Shipping with the purchase 12+ Bottles!
Applies to orders shipped within the contiguous United States (excludes Hawaii, Alaska, Alabama, Delaware, Louisiana, Mississippi, New Hampshire, New Mexico, Oklahoma, Pennsylvania, and Utah).

Please Note: All packages containing alcohol must be signed for upon delivery by an adult 21 years of age or older (who may be required to show identification verifying age). UPS will not leave such packages on the doorstep, even if the recipient has requested this. UPS will attempt to deliver packages containing alcohol 3 times before sending it back to Airfield Estates Winery. Shipping charges will apply to reship returned packages. If a package is returned, please contact Airfield Estates by emailing customerservice@airfieldwines.com or calling 509-203-7646 on weekdays between 10am to 2pm PST.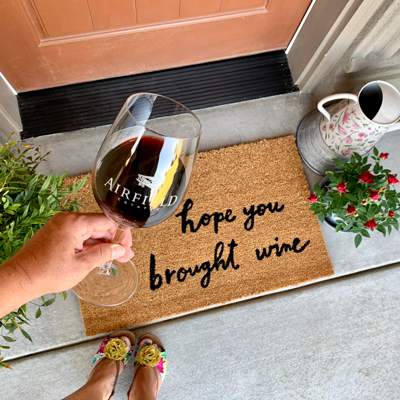 « Back to Events